Cats are adventurous animals by nature, that are known to wander off easily. A solid cat collar is one of the best possible investments you could make towards your cat's future safety. If she happens to wander off at some point in the future, you will certainly not regret having bought a personalized collar with some type of ID engraved, as the chance of retrieving your pet will be much higher.
But how do you find the best personalized collar for your cat? We tested a few of them to help you decide. Read on to discover which collar will suit your kitty best!
---
Top 3 Recommended Collars
---
Product Reviews
2. I and Love and You (Naked Essentials Salmon & Trout)
What we liked
Contains real salmon with omega 3 & 6
No artificial coloring, flavoring or preservatives
Added prebiotics & probiotics promote healthy intestines
High in protein
Grain-free
What we didn't like
Premium product, meaning it's more expensive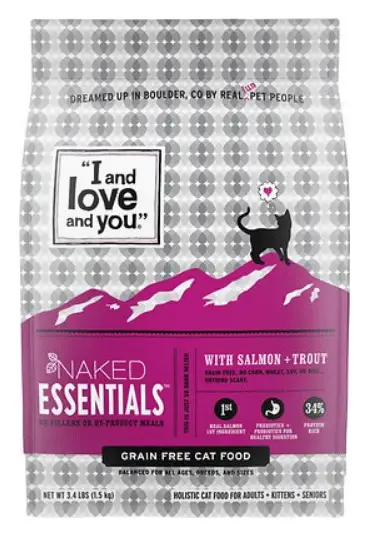 ---
Review:
I and Love and You have a superb dry kibble from the Naked Essentials line. This food is made only from top-of-the-line ingredients, including 100% real salmon and trout meat. This recipe ticks every imaginable box: high in protein, low in carbs, zero additives, and enriched with prebiotics and probiotics to support digestion.
This is a real premium cat food. If you want the best for your kitty, you can't go wrong with the Naked Essentials line. Highly recommended!
---
2. Buckle-Down Personalized Star Wars Breakaway Cat Collar with Bell
What we liked
It's a small piece of art!
Available in 60+ colorful designs
Durable – Made from high-density polyester
The breakaway is well-designed
What we didn't like
Bell can not be detached
Print starts to fade after a while
---
Buckle-Down has a huge variety of breakaway collars with personalization. We love the designs; they are all super colorful and have recognizable elements from Disney movies, TV shows, comics, and even Star Wars. There's bound to be one that resonates with you!
The collar strap in this model is made from sturdy polyester, which is not the most comfortable material. However, these kinds of collars are often very durable. The product feels high-quality, and you can tell that Buckle-Down spent time and money to develop something decent. The breakaway mechanism is also finely engineered.
One thing we didn't like was the fact that you can't easily take the bell off. Buckle-Down missed the mark there. We also heard some complaints from customers that the print started to fade after a few months.
Overall, this is a great choice for those who are looking to buy something a little more extravagant than a plain colored strap and band.
---
3. GoTags Personalized Nylon Reflective Breakaway Cat Collar with Bell (8 to 13-inch)
What we liked
Strap is made from high-quality nylon
Reflective surface makes it easier to find your cat at night
What we didn't like
Reflective material & ID may wear off after some time
Buckle gets in the way of your text on smaller necks
Breakaway comes undone too easily
---
Review
This nylon breakaway collar from GoTags holds room for 21 characters of custom text. You can buy it in a variety of pretty colors: black, orange, red, blue and pink.
GoTags added a few extra features; a detachable bell, a breakaway part for extra safety (that snaps open a líttle too easy for my taste). The standout feature is that this collar has reflective properties, which will be of tremendous help whenever you're trying to find your cat during night-time.
But that's where the goodness ends. One major problem we had with this product was that the reflective material had started to come off after a while. Our personalized text also started to look faded after just a few months. There also seemed to be another serious problem with the design, which will mainly be noticeable if your cat has a smaller neck. Unfortunately, when the collar was strapped tight, the buckle obfuscated our customizations.
---
Buyers guide: What to look for
How do you figure out if a collar is worth your money, or if it's best left on the shelf? That is the question we set out to answer in the remainder of this article. The following is a list of things to check when buying a personalized collar for your cat, sorted by order of importance. We chose our top 3 products based on the fact that they score really well in some or all of these key areas:
1. Secure fit
If you ask us, the single most important aspect of any collar is whether it can be securely attached around the neck of your pet. It's smart to take your cat's neck measurements before going shopping so that you know if the collar's size matches it. If you find that measurements align, ensure that there is a decent amount of stretch in the material. Another thing to pay attention to is the quality of the buckling mechanism that is used to secure a collar.
2. Breakaway part
A breakaway collar has a part in the strap that is designed to come undone when too much force is exerted on the collar. This usually occurs whenever the collar gets snagged on a tree branch, fence, or any other object that is sharp and sticking out.
Traditional collars could lead to a pet hanging themselves or suffocating in these situations. But the breakaway cat collar is a great solution; it does a perfect job preventing your pet from trapping themselves.
Cat collars with a breakaway may be a bit more expensive, but the additional safety makes it a worthwhile purchase. We highly recommend picking a cat collar with a breakaway part. The benefits could potentially save you a lot of trouble and heartache in the future.
3. Materials used
A collar is a product that is expected to last at least a few years before it has to be replaced. You certainly don't expect a brand new cat collar to tear or snap after just a few months. One of the major factors that determine the durability of a collar is the type of material used in the strap.
The strap can be made from a variety of materials; leather and nylon webbing are the most common. Less commonly used materials include metal, polyesters, and vinyl woven with cotton.
Some of the most durable & comfortable (and also more expensive) materials are leather & nylon fabric. These premium materials might be more expensive, but the positive side is that they should last you at least 2 years before wear and tear really start to set in.
4. Is it comfortable?
Since your cat will (hopefully!) wear this product for a good portion of her life, a good collar should be reasonably soft and comfortable on the inside of the strap. This mostly comes down to the material that producers choose when designing their product; softer fabrics cause less friction, and are therefore a lot more comfortable to a cat compared to rough ones.
Again, if you want your cat to feel comfortable in the collar, it's worth spending a little extra to get one made from premium materials such as leather and nylon.
5. Bells & ID Attachment
Many collars come with a bell attached, which is designed to warn prey and make it easier to locate your cat should it get lost. Some collars come with very sizeable bells. While this may seem useful or even cute, trust us when we say that after a few weeks the sound can become pretty tiresome. Your cat will probably not be the happiest about being turned into a walking orchestra, either.
If you've opted to buy a personalized collar with a bell, we suggest you pick a product that allows for easy detachment.
---