We all enjoy curling up with a good movie or tv show at the end of a long day. Preferably with your four-legged friend purring comfortably in your lap, right? There's no way cats could enjoy a movie night, though?
Well, think again! Multiple streaming services have started offering TV shows specifically catered to our beloved kitties. But do they really live up to the hype?
In this article, we're diving into video entertainment and television shows for cats. We had our four-legged reviewer Salem critique a few programs. We also cover a bit of science by investigating what cats actually see when they stare at a TV screen. And finally, as an added bonus, read on to learn about some very famous TV cats & movie stars.
Best Cat TV shows (We asked a cat!)
So, you're probably wondering what are some of the best tv shows for a cat to watch. Luckily, we've done the research. And who better to ask than an actual cat? You can guarantee they won't lie just to please us! So, here you are.. an honest, no holds barred reviews of some of the most popular cat TV shows. Written by my very own feline companion, Salem:
Cat tv – Mice in the jerry mouse hole (8 hours)
Salem's thoughts: "Those mice sure look tasty! But the whole thing was a bit repetitive, so I got bored after an hour or so. This is more of a chilled watch than a full-on entertainment program." 3/5
The ultimate games compilation (3 hours)
Salem's thoughts: "I may not be a spring-kitten anymore.. But is this really what young cats watch these days?? The animals looked kind of weird and moved oddly. The transitions were also downright freaky, and now and then a huge scary basketball would come hurtling towards me. Don't call me for the sequel." 0/5
Fish video for cats and dogs to watch (8 hours)
Salem's thoughts: "Not all that fond of fish if I'm completely honest, not even for dinner. Plus, the bubbling sound was really doing my whiskers in. There's no way I could watch 8 hours of this without falling asleep. Sorry, but I have bigger fish to fry…" 1/5
And the winner is…
Cat tv for cats to watch – Beautiful goldfinch birds and squirrels (8 hours)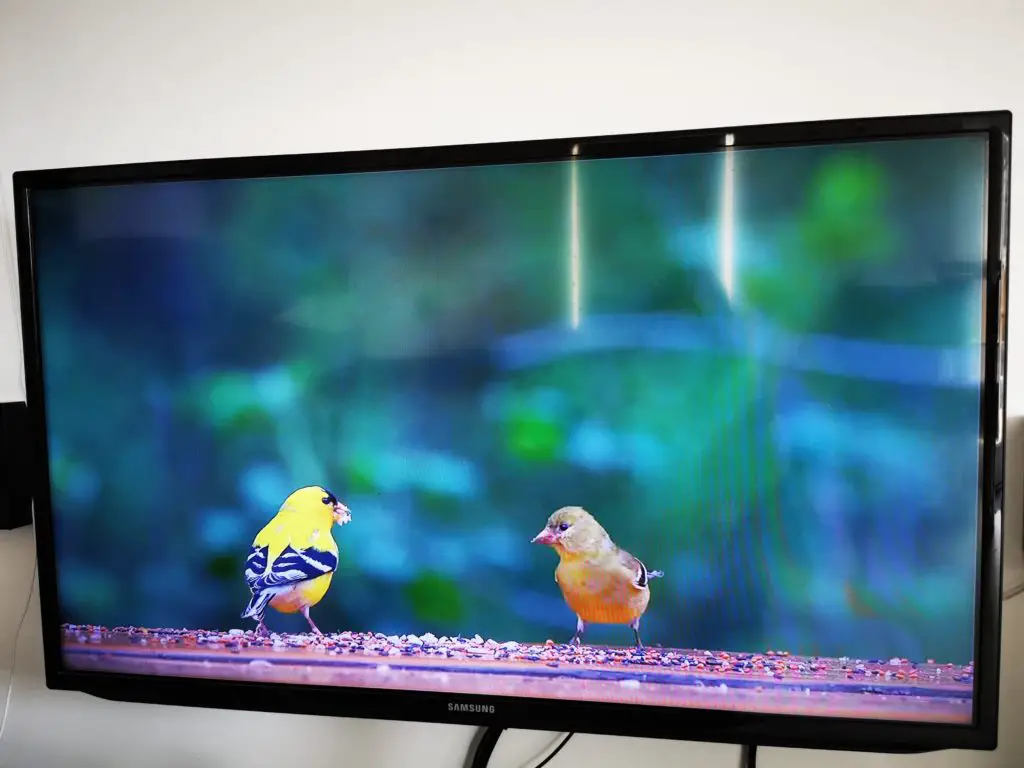 Salem's thoughts: "Now this is more up my ally! The sounds caught my attention right away; so much appealing twittering. The birds looked so yummy too! All that eating they were doing was making me very peckish! Although, when that huge squirrel came on screen, I nearly dropped my whiskers. It was almost as big as me! Overall, a very entertaining watch." 4/5
Meet your reviewer
Meow! My name is Salem, and I am a black (no racist jokes please!) Siberian Forest cat cross. I have over 10 years of experience as an avid bird hunter and mouse enthusiast. I've always been very vocal in my opinions, so this reviewing gig for Catpointers was a blast!
When I'm not watching TV shows, I love to sprawl out in the middle of doorways, attack random pieces of fluff on the carpet, and constantly bug my human slaves for more food (I love a good steak!). When the weather is nice, I'm also partial to a bit of sunbathing.
---
Famous TV cats & internet celebrities
We all have a favorite actor (Bruce Willis all the way for me!) but we shouldn't forget about the famous stars of the cat entertainment world! Let's give those felines some recognition too, shall we?
Lil Bub – Raising awareness of cats with special needs
This adorable little kitty became an internet sensation in 2011 due to her unusual appearance, which was caused by a variety of medical issues, including dwarfism. Unfortunately, she passed away in 2019 at the age of eight but her legacy will always live on!
Throughout her lifetime, Lil Bub gained 2.4 million followers on Instagram! This led to the creation of her own YouTube Channel, as well as a number of endorsements and even a tv documentary. Her incredible fame was used to raise over $700,000 for animal charities, including the ASPCA, to help other cats with special needs.
Bob – the street cat with a big heart
This ginger beauty has one of the most heart-warming stories to date because he literally saved his owner's life. James Bowen was a heroin addict and busker until Bob jumped through his window and refused to leave.
Since then, James has been able to get clean and the pair formed an unbreakable bond that led to the creation of the Biographical drama film A Street Cat Named Bob. Since its release in 2016, the film has grossed nearly $18 million and raised significant awareness of homelessness and drug addiction.
Nala – the most famous cat on Instagram
Nala proudly holds the Guinness World Record for the cat with the most Instagram followers. Since she was rescued from an animal shelter at just five months old, the adorable Siamese/Tabby mix feline has racked up 4.4 million followers on Instagram and 1.7 million likes on TikTok!
Nala has a website where she sells her own merchandise and raises awareness of the plights facing shelter cats across America.
Cole and Marmalade – from rags to riches
These lovable felines are true internet sensations with their own website and YouTube Channel with nearly 1.5 million subscribers! Cole was rescued from the streets at just 6-weeks-old. Marmalade was born to a feral colony in 2013 but was swiftly adopted when his mother rejected him. Since then, the dynamic duo have become the best of friends and are dedicated to using their fame to increase adoption rates from shelters and educate cat lovers around the world in everything kitty-related – from neutering to nutrition!
---
---
What is cat TV entertainment?
In our modern age of video streaming, it was only a matter of time before our fluffy companions got in on the action. And finally we are here – high tech cat entertainment! In fact, cat tv shows have proven to be so popular that entertainment giants Amazon, Netflix, and YouTube have all jumped on the bandwagon.
They have all released adorable live videos of birds, mice, fish, insects, and everything in between for the enjoyment of our kitties. Some even include the odd interactive game on a screen (just be careful of those sharp claws!). All sounds enticing, doesn't it? What cat wouldn't want to watch twittering birds all day?
---
Want to surprise your cat with an awesome gift after TV-time? Check out these custom pins
---
How much tv should I let my cat watch?
This is a difficult question to answer as it depends entirely on the preferences of each individual feline. Saying that, a cats' eyes are designed for night vision. So, its possible that watching too many cat tv shows in a row could cause visual fatigue. It's best to turn the brightness down on your tv if you notice your cat getting uncomfortable.
Studies have shown that shelter cats can benefit from a bit of tv time to reduce boredom and stress1. So, it may also be good for cats that suffer from separation anxiety when you are not home. However, the attention spans of the shelter cats waned after about 3 hours (still impressive for a species that spends 20 hours of every day sleeping!). So, be careful not to leave the tv on all the time as your cat will likely lose interest!
The best thing to do is simply try your cat with a kitty-approved program and watch their reaction. Just like humans, some cats love tv, others don't! It's worth noting that some cats can get a bit addicted to the television! This could be the result of frustration as they cannot 'catch' their prey. Additionally, cats rely on all of their senses to determine their surroundings. So, it could be a little confusing seeing a bird but not being able to smell it.
The truth is, we don't know exactly how cats view tv as they are not mentally capable enough to understand the concept of it. So, if you notice your cat acting out of sorts and continually pawing at the tv, its best to turn it off for a while and focus on other forms of enrichment.
With any animal, it is important to offer plenty of varied enrichment and stimulation to keep them physically and mentally active, such as cat trees and regular play sessions. Obesity is fairly common in cats, especially indoor cats, as they are often more sedentary than their wild counterparts (and they tend to eat more!).
Frequently Asked Questions
What do cats see when they watch TV?
This is interesting! Cats love a bit of visual stimulation as they are hunters by nature. However, they process images much quicker than humans, at a rate of around 70-80Hz2. Let me put this into context for you. Humans need approximately 30 frames a second to see clean movements on a screen. At this speed, cats only see slow, jolted movements – not the kind of swift movements they expect from a mouse or bird! To get the same experience as us, cats need at least 100 frames a second!

Luckily, many modern HD screens have image refresh rates up to 120Hz, which is great news for our fluffy companions! If you still own an older model, don't expect your cat to be enthralled by any tv show.
Do cats see colors?
Cats have fewer photoreceptor cells in their eyes compared to humans (also known as cones). This means that they are not able to see clearly-defined colors or finer details. Instead, they have a tapetum which reflects light back off the cones, giving them the ability to see in the dark.

Our domestic felines can only see variations of blue, green, and red. So, they are more likely to watch cat tv programs that are predominantly these colours (with swiftly moving objects too of course!). Funnily enough, children's programs are more likely to display bright contrasting colors like these. So, don't be surprised if your cat becomes engrossed in Peppa Pig from time to time!
References:
https://www.vin.com/apputil/content/defaultadv1.aspx?pId=11132&catId=29216&id=3844144&ind=15&objTypeID=17