Catpointers is reader-supported. Certain editorial links earn us a commission, which helps maintain our website and write more pawsome content.
You probably will not see a cat catch a salmon on their own, but all cats are fans of the pink meat. If you're looking to spoil your kitty with some cat food that tastes like salmon, we've got you covered. We scoured the internet to come up with a list of some of the best salmon cat food products!
Catpointers Recommends:
---
Product Reviews
1. Meow Mix (Tender Centers Salmon & White Meat Chicken)
Review:
Meow Mix Tender Centers is a great choice for those who are on a budget but still want to buy great quality cat food for their kitty. This meal has two textures, a crunchy outer layer with a soft & tender core. Each has its own flavor (salmon and white chicken). Meow Mix is nutritionally complete with all the essential vitamins, minerals, and nutrients that your cat needs to remain healthy.
---
What we liked:
Best budget option
Available in small 3-lb bags
Double texture & flavor
Added anti-oxidants support immunity
---
2. I and Love and You (Naked Essentials Salmon & Trout)
Review:
I and Love and You are known as one of the absolute highest quality cat food brands. It's hard to find something wrong with their recipes, which are all formulated by a holistic veterinarian to meet the needs of your cat. This delicious salmon recipe is made from whole foods including chickpeas, lentils, sweet potatoes, and whole ground flaxseed.
Naked Essentials Salmon & Trout has a superb taste and includes everything to support a healthy digestive system: probiotics, antioxidants, and Omega fatty acids. If you're prepared to pay a little more to get your kitty the very best food on the market, this is your best choice!
---
What we liked:
Whole ingredients – no additives
Grain-free
Added antioxidants, prebiotics & probiotics
Omega 3 + 6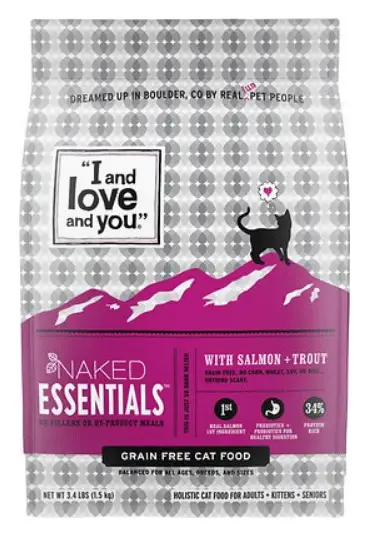 ---
3. Natural Balance L.I.D. Limited Ingredient Diets Green Pea & Salmon Formula
Review:

This dry cat food is made especially for kitties with food sensitivities. The recipe contains just a few ingredients, including a single animal protein source—salmon. Every meal has extra vitamins, minerals, essential taurine, and omegas to support a healthy coat, eyes & heart. Natural Balance makes their cat food without any artificial coloring or preservatives, and the recipe has no grain in it. This is a high-quality product!
---
What we liked:
Few ingredients – Great choice for sensitive cats with allergies
Added vitamins, minerals and taurine for healthy eyes and heart
No grains, artificial flavors, coloring and other additives
What we didn't like:
Not the best option for pet parents on a budget
4. Friskies Pate Salmon Dinner Canned Cat Food
Purina's Friskies line has one of, if not thé best salmon paté currently out there. It has a very soft texture, which means you can easily mix it into dry kibble as a taste enhancer. Alternatively, you could just put it straight in the bowl as a treat. This one belongs to the best salmon cat foods.
Friskies salmon pate consists of approximately 45% protein (based on dry matter analysis). That makes it a healthy choice for your cat, and it is also well-suited to growing kittens. It also adds plenty of moisture content, something most cats don't get enough off in their usual daily diet.
---
What we liked:
Suitable for both growing kittens and adults

Smooth texture & superb taste

Contains a lot of moisture
What we didn't like:
Not all the ingredients are high quality
5. Life Essentials Freeze Dried Wild Alaskan Salmon
We picked these freeze-dried treats from Life Essentials because they are one of the best and tastiest salmon cat treats on the market. Your cat will absolutely love these to bits, and they work great as a healthy snack for clicker training / rewarding.
Life Essentials Wild Alaskan Salmon treats are organic (meaning zero additives & preservatives) and they contain real salmon. They have the perfect composition for a healthy treat: very high in protein and omega's, while staying low in calories and saturated fats.
---
What we liked:
Contains extra protein
Low on saturated fats
Works great as an appetite enhancer
Comes in a handy sealable bag
No additives or preservatives
What we didn't like:
Smell can be overwhelming
---
---
Is salmon safe as an ingredient?
While raw salmon is not good for cats (as explained at the bottom of this page in the FAQ section), commercial food generally contains a combination of flavorings and cooked meat. These are 100% safe for consumption.
In fact, cooked salmon is very good for cats and is often used in cat food because cats derive the same benefits from the fatty acids as humans do.

Omega 3 and 6 are known to promote cardiovascular health and support a healthy immune function. These fats are also associated with healthy hair, eyes, and skin, among numerous other benefits.
Cooked salmon contains a whole list of healthy macro micro-nutrients that are vital to healthy functioning. These include multiple B-vitamins, selenium, and potassium among others.
In short, cooked salmon is very healthy food for cats as long as you don't overdo it (once or twice a week but no more)
Is Salmon flavored wet food good for cats?
Foods that only contain flavorings and no real meat can generally be given as often as you want, provided they are from a respectable brand and contain all the essential nutrients to support healthy growth. Salmon-flavored wet cat food will taste amazing to your cat! The only potential downside of these foods is that if you give them too often, your cat may no longer want to eat anything else!
Homemade salmon cat food
Some people prefer to prepare their own cat food. If you are one of those who like to mess around in the kitchen, cooked salmon is actually a great ingredient to include in your homemade cat meals (as long as you're making sure it is cooked thoroughly).
Can cats eat tuna?
Over the last decade, tuna fish has increasingly been contaminated with mercury, a poisonous metal that accumulates in the animals that sit at the top of the marine food chain. For cats and their tiny bodies, even small amounts of mercury can be unhealthy. We discourage you to feed your cat raw tuna.
Canned tuna may contain lower amounts of mercury, but on the flipside it often comes with a lot of added sodium and other preservatives that probably aren't the most healthy thing for your cat to digest. A little here and there probably won't hurt, but to be on the safe side we discourage you from making tuna a major part of your cat's diet.
Can cats eat raw fish?
There is a difference between raw salmon and salmon flavor. Raw salmon is not suited for cats, nor is any other raw fish for that matter. Besides the fact that uncooked meat poses a serious risk of food poisoning from Salmonella and other harmful bacteria, raw fish also contains a particular enzyme that removes vitamin B1 (also known as thiamine) from the body, which is required for many cellular processes.

When cats become deficient in Vitamin B1, they can suffer all sorts of drastic effects such as loss of appetite, tingling sensations, loss of vision, nausea, vomiting, agitation, and fatigue. Needless to say, you don't want your cat to become deficient in this essential nutrient.
What is the best salmon dry cat food?
The dry foods we recommend on this page are definitely some top-tier products, as they are full of animal-sourced proteins and healthy fats. I recommend you order some and see which one your cat likes best.
---