Catpointers is reader-supported. Certain editorial links earn us a commission, which helps maintain our website and write more pawsome content.
Best Puzzles for Cats (Buyer's Guide 2022)
We spent 5 hours testing food puzzles. Here are our findings:
Treat and food dispenser puzzles are one of the hottest cat products of 2021. Over one-third of all owners use a puzzle feeder. Why are they so popular? Studies have shown that treat dispenser puzzles help cats lose weight and get more active, as well as providing a range of behavioral benefits.
We reviewed a bunch of them! On this page, we'll tell you what we think are the best food puzzles, why they work, and what you should consider when buying one.
Catpointers Recommends:
Rainy Day Puzzle & Play
Pet Stages
Brain Mover Activity Strategy Game Cat Toy
Trixie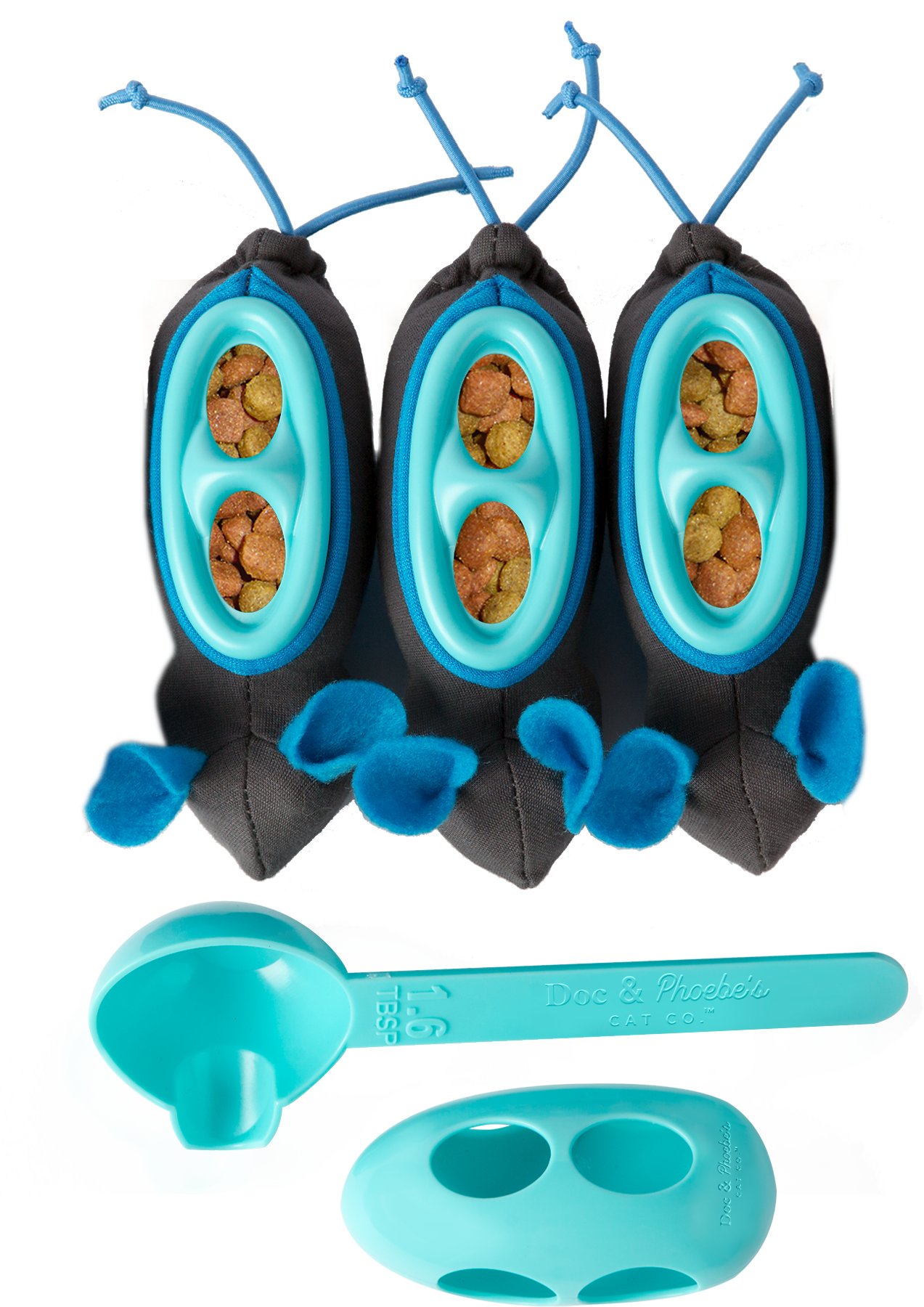 Indoor Hunting Cat Feeder
Doc & Phoebe's
Disclaimer: Catpointers loves pet products that are free from harmful additives and other bad chemicals. We encourage you to always check the manufacturer's information for any unwanted substances.
---
Product Reviews
1. Trixie Brain Mover Activity Strategy Game Cat Toy
What we liked:
Great variety in the types of puzzles offered
Available in multiple colors
Rubber stoppers reduce noise from sliding over hard floors
Can be used with wet food
Dishwasher proof
What we didn't like:
It takes up quite a bit of space
The Trixie Brian Mover came out on top as our best-rated product in this category. It is beautifully designed, comes in multiple soft colors, and has a variety of interesting games. This puzzle comes with four built-in modules, each requiring a different type of interaction in order to earn a reward. This variety ensures your kitty won't lose interest in the Trixie Brain Mover anytime soon.
The games consist of a moveable ball, sliders that can be played with, drawer knobs, and loops. Your cat will have to use patience and concentration to solve them, which is exactly the type of stimulation that indoor cats need.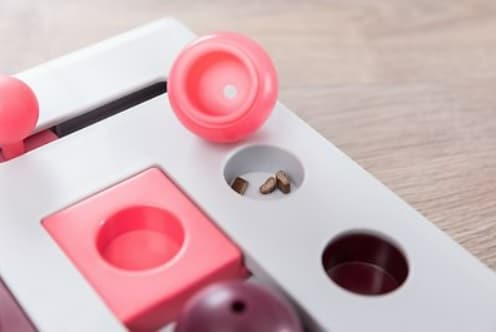 The materials used are mostly plastic (more specifically Polypropylene and High Impact Polystyrene), which has its pros and cons. A definite advantage of this material is that you can clean the entire thing in the dishwasher, but the downside is that plastics can be noisy when your cat is going at it. However, we were delighted to find that Trixie installed four rubber stoppers on the bottom to reduce noise from sliding over hard floors.
All in all, this is a great product, and we couldn't find any major reasons not to buy it. Oh, and did we mention that it comes with a very budget-friendly price tag? Click the button to see for yourself!
---
2. Petstages Rainy Day Puzzle & Play
What we liked:
14 different compartments that can hold different treats or food
Allows you to increase the difficulty as your cat learns
Can also be used as a slow-feeder
It takes wet food
What we didn't like:
Has to be reconfigured after each puzzle session
The various elements produce a lot of noise when operated
Review:
The Rainy Day Puzzle & Play is presented as the answer to your cat's boredom indoors. It certainly is a pretty complete package, with 14 different drop-shaped levers and sliders that reveal holes where you can store treats or food. You also have a spinning disk on top that can be used as an additional place to conceal treats. The puzzle's design allows you to increase the difficulty to keep even the most intelligent of cats interested.
The board is made from wood and a solid plastic that is safe to chew on (no BPA, PVC or phthalates). This material is light and easy to clean, which is a definite plus in our eyes.
Overall this is a very solid board, and while it requires some work to set up for every puzzle session, we can easily recommend it to every cat owner that wants to provide a challenge to their kitty. Want to see this product in action? Watch it here.
---
3. Doc & Phoebe's Indoor Hunting Cat Feeder
What we liked:
Only puzzle that mimicks the hunt for prey
Dishwasher-proof
Veterinarian design
What we didn't like:
The feeder skins come off easily
A unique concept among food puzzles; this one lets you put food into three cut little feeders, which you can then hide in various places around the house. This is as close to natural feeding patterns as you can get, and is sure to get your cat working for their food!
We tried Doc & Phoebe's product and it took a while before Layla caught on. But once she understood the concept, we could easily see that she was very much enjoying the hunt!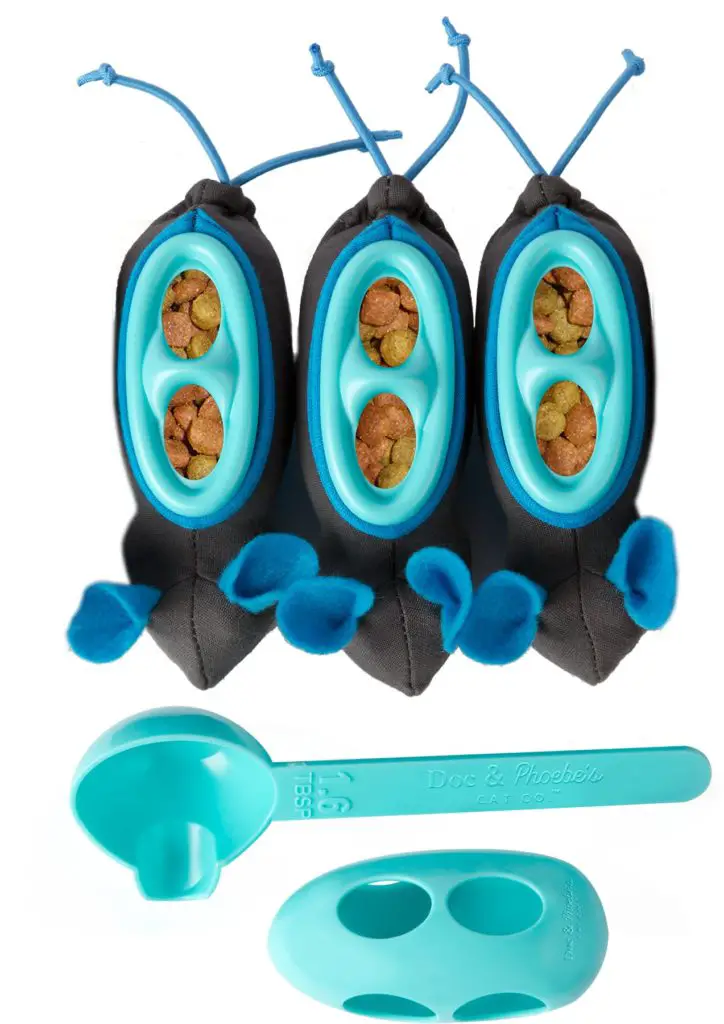 What's Included?
The indoor Hunting set includes a trainer with multiple dispensor holes, 3 feeders with holes suited to all kinds of kibble, 3 skins to give your feeders a unique look, and 1 scoop which holds aprox. 1-2 tablespoons of cat food.
Both the feeder, trainer and scoop are free from BPA plastic and can all be washed safely in a dishwasher. The feeder skins are made from nylon and can be placed in a machine wash.
---
4. Cat Amazing Interactive Treat Maze & Puzzle
What we liked:
100% Made from recycled materials
Several levels of difficulty
What we didn't like:
The materials are not very durable
Not suitable for wet food & moist treats
Difficult to clean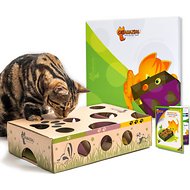 This puzzle is one-of-a-kind in this category because it's made entirely from recycled materials. The design is sober, although Cat Amazing did include three difficulties – beginner, intermediate and top – in order to continually provide a challenge for your kitty as her skills improve.
The puzzle was easy enough to assemble, but it didn't feel very sturdy or durable. Since it's made from recycled cardboard, you can forget about putting any wet food or moist treats in. We had some initial concerns about whether cardboard is the smartest choice for a product that will likely be chewed on, but Cat Amazing ensured us that their materials are printed with certified metal-free inks, which they say is completely safe for your cats. We'll have to take their word for it.
All in all, this puzzle has some drawbacks. But if you're the kind of person who always thinks of the environment first, those may be overlooked.
---
What are treat dispenser puzzles?
Although often called treat dispensers, 'food puzzles' is perhaps a more accurate term. A treat puzzle feeder dispenses the contents slowly, usually with some sort of interaction from your cat such as hitting certain parts or pushing things. Treat feeders can come in many shapes and forms, which we'll go into later.
First, let's take a look at some of the best products that you can buy in this category. Looking to pick up a cat treat dispenser in 2021? You can't go wrong with any of these:
---
Why you should use a cat treat puzzle
There are lots of good reasons to introduce a treat dispenser toy to your cat. By slowing down your cat's eating, a treat dispenser toy can reduce regurgitation from eating too fast- known as 'scarf and barf'. It's not clear why, but using a cat treat dispenser toy may also decrease anxiety and reduce other negative behaviors like scratching, spraying, and aggressive outbursts.
According to a 2016 study on puzzle feeders, increasing activity whilst foraging is physically good for your cat, as well as mentally. Cats that eat more slowly feel fuller sooner, which helps reduce begging and scavenging. Moving puzzle feeder toys may also add to the daily activities of your cat. Both of these benefits help cats to lose excessive weight and have subsequent positive effects on mobility and arthritis.
What types of treat dispensers are there for cats? How do I choose the best type of dispenser for my cat?
There are lots of different types of treat dispensers available to purchase, from treat balls to stationary cat treat mazes. We'll cover some of the most popular types here:
Treat Ball/Puzzle Ball
Cat treat ball dispensers are a type of moving puzzle feeder. They have a small hole that dispenses food or tasty treats when the ball is knocked around by your cat. They come in a range of difficulties, with some having several holes and others having just one small hole, and others not being quite round so that they move less predictably. The main advantage of this type of dispenser is that it will encourage a cat to be physically active, which could aid in weight loss.
When you use these, don't forget to make sure the treats or dry food you use is small enough to fit through the holes in your puzzle ball.
Self-righting treat dispensers
A bit like a ball toy, this type of interactive cat treat dispenser holds food on the inside, and releases when knocked. But instead of rolling away like a food ball, the self-righting dispensers reorientate themselves. Great for cats that are less mobile, or where ball toys get stuck under furniture resulting in frustrated cats.
Mazes
Cat treat mazes encourage your feline friend to hunt their food out from tunnels and crevices with their paws and nose. Some are as simple as a bowl with raised bits so that your cat has to move food to where they can easily reach. Others are more complex, with several levels to knock food around before they can get to it. Snuffle mats are a popular type of food maze that cats can use. Mazes are generally stationary, so are great for cats that are scared of the action or noise of the food ball, or cannot move as much due to injury or arthritis.
Pinata Puzzle Feeders
Some puzzle feeders are designed to be hung like pinata to encourage your cat to stand and paw at them. You can also hang some puzzle balls for cats like pinata-style toys to make them more difficult.
Treat Mice
Some treat dispensing toys can be stuffed and hidden- we like to call these 'treat mice'. The cat not only has to hunt down the mouse from behind the cushion or under the bed, but then remove the treats or food from inside it. Some even have a washable outer 'skin' for realism. These are best for cats that like to hunt, and are mobile enough to do so.
Remote Treat Dispensers
Some cat treat toy dispensers work remotely using a camera and your smartphone. They can be used to 'treat' your cat when you are at work or away. Simply log into the app, view your pet, and remotely give them a treat.
This type of dispenser toy isn't good for feeding large amounts of food but can be good to encourage your cat to come in view of the pet cam once in a while!
Which type of puzzle toy will my cat like?
That depends entirely on your cat. You may have to try a few in order to discover what she likes. Remember, their interests may develop over time, so start simple and don't give up. If your pet is overweight, try to choose a moving toy, such as a puzzle ball for cats, that will encourage them to exercise. If you have a cat that likes to hunt, consider whether a food maze or treat mice would be better for them.
What to look for in a good treat dispenser for cats
So, you've decided to buy an interactive cat treat dispenser? Great! Let's make sure you get the right one (or several!) for your cat.
Firstly, you need to make sure that your product is safe for cats. Ideally, look for something designed for cats or small dogs. Whilst plastic is generally hard-wearing and easy to clean and sanitize, it should be BPA-free due to concerns over toxicity. Ideally, anything that comes into contact with food should be easy to take apart to clean. If you can find products that are dishwasher-safe, that will help with cleaning.
You should take care to buy items from a reputable source. As we wrote in our article about dangerous products, some items that are manufactured in other countries are not subject to the same strict standards as toys in the USA or Europe, and can contain toxic materials. Since your cats are going to be eating food from this feeder, you should take as much care as you do with their food bowls.
The next thing to make sure is that the toy contains no small parts that could be removed and swallowed. Long, string-like tails, whilst they look fun, can be dangerous if chewed through and accidentally swallowed, so try to avoid these.
Some treat dispensers are more suitable for feeding a whole bowl of food, others can only take a couple of pieces of kibble. Only a few will take wet food. You'll need to find one that suits your cat's feeding needs, too!
3 Top tips for using a puzzle toy with your cat
Get several toys and switch them out regularly so that your cat always has a 'new' toy to play with.
At first, your cat might need some help learning to use the puzzle- you should show them how to use it and that there is food inside. Don't allow them to become frustrated by the puzzle as this can be detrimental- nobody likes games they're bad at!
Don't be afraid to experiment and change it up by adding DIY toys, putting new treats in them, or giving your cat several puzzles to try at once.
Puzzle feeders in multi-cat households
All cats can be trained to enjoy food puzzles. But since many cats may have individual preferences and don't like to compete over their resources (food, treats and water), we highly recommend placing several different treat dispensers around the house. That way, each cat will be have their own puzzle to enjoy.
".. if one type of puzzle is more popular, then the owner should provide multiple puzzles of that type. This prevents cats from having to compete over food resources, and from being forced to eat in the same area, a behavior that is unnatural to solitary hunters. However, some cats are willing to use a food puzzle together."

Food puzzles for cats: Feeding for physical and emotional wellbeing – Link to study
Frequently asked questions
Why are treat dispensers not used more often?
There is a general lack of knowledge among the public. Most people know that food puzzles work great for dogs, but it is a lesser-known fact that they are just as suitable for cats.
Why do cats need to forage?
A study by Mikel Delgado, a researcher on cat behavior at UCDSVM, found every animal will instinctively want to go out and look for food. Cats are also born with a tendency to hunt; this behavior is deeply ingrained into the brain and an essential part of their life. Food puzzles provide an opportunity to satisfy this urge. When an animal has to work for food, the reward is much more satisfying. So-called "happy hormones" are released, which contribute to mental and physical health. Food puzzles are therefore thought to contribute to overall health and happiness.
Conclusion
The best cat treat dispenser is one that your cat enjoys using- and since all cats are different, it might take a while to find one that your cat loves. But it's worth doing- foraging using treat dispensers is good for your cat, both physically and mentally!
Want to know more? This site is written by cat behaviorists and has loads of information about using cat treat feeders for healthy eating habits!